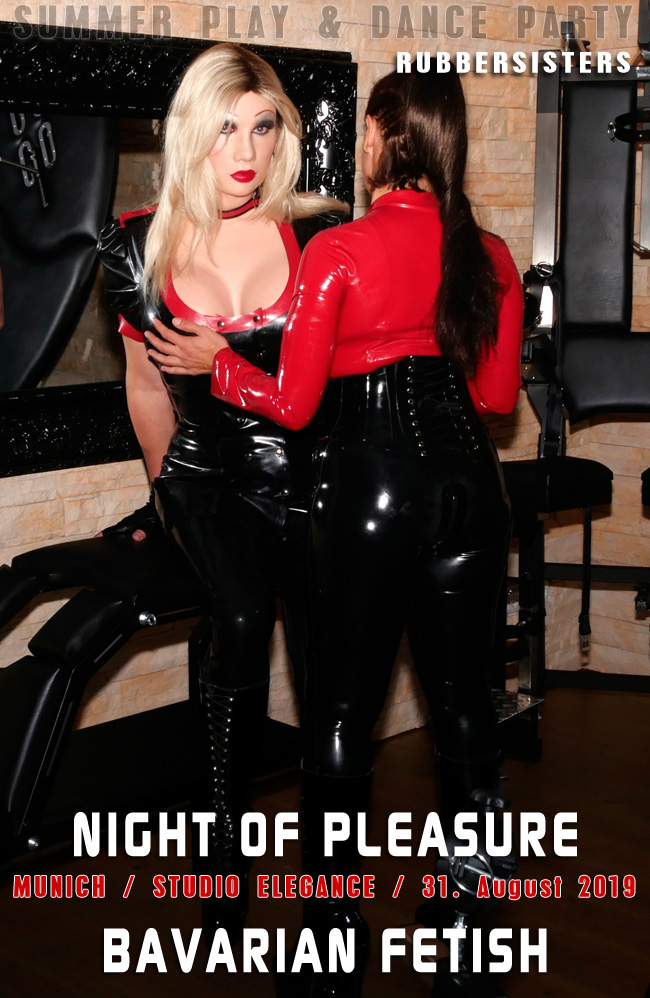 Discover your sexual passion together with the Rubbersisters.
Join them at Bavarian Fetish's Play & Dance Party at Studio Elegance, Munich.
Lady Monica & Lady Jacline will introduce you to their glamorous bizarre fetish world. Fixed and tied up, whiplashes on your sweet bottom will ensure greater acceptance and willingness on your part. Hands that touch you everywhere, voices that whisper into your ear. Talk to your sisters about it when you feel ready. They will listen to you attentively. Write to them and learn more about your unique fetish experience.
Entdecke Deine sexuelle Leidenschaft zusammen mit den Rubbersisters.
Begleite sie zur Play & Dance Party von Bavarian Fetish im Studio Elegance, München.
Lady Monica & Lady Jacline werden Dich in ihre glamourös Bizarre Fetisch Welt einführen. Fixiert und gefesselt werden Peitschenhiebe auf Deinen süßen Po für größere Akzeptanz und Bereitschaft bei Dir sorgen. Hände, die Dich überall berühren, Stimmen, die Dir ins Ohr flüstern. Rede mit Deinen Schwestern darüber, wenn Du Dich bereit fühlst. Sie werden Dir aufmerksam zuhören. Schreibe Ihnen und erfahre mehr über Dein einzigartiges Fetisch Erlebnis.
 
Rubbersisters
Lady Monica & Lady Jacline