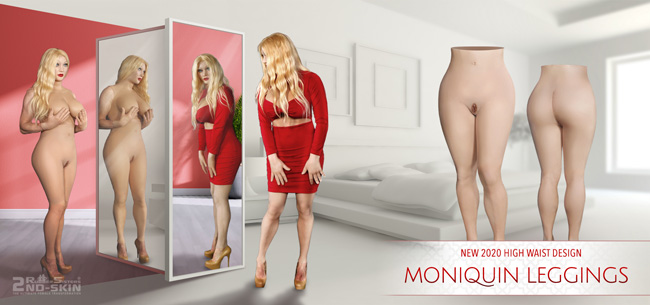 Die Moniquin Leggings wurde speziell für die Mann zur Frau Verwandlung entwickelt.
Diese Hose wird aus sehr hochwertigen und weichen medizinischen Silikon in Handarbeit hergestellt. Sie kann auch von Frauen zur Beinformung getragen werden. Die hochgezogene enge Taillenform erzeugt eine schmale Taille und formt weite Hüften. Das sehr dehnbare und reißfeste Silikon ist sehr weich und anschmiegsam. Die eingearbeitete Vagina sieht sehr realistisch aus und ist offen. Der weibliche runde Po und Hüften kann durch unterziehen einer aufblasbaren Hosenfigur individuell geformt werden. Der besondere Vorteil dieser einzigartigen Leggings ist, dass man sie als Hose am Körper nicht erkennt!
The Moniquin leggings have been specially developed for the male to female transformation.
These pants are made from very high quality and soft medical silicone. The pants can also be worn by women to shape their legs. The high thight waist shape creates a slimt waist and wide hips. The very stretchy and tear-resistant silicone is very soft and cuddly. The integrated vagina looks very realistic and is open. The female round buttocks and hips can be individually shaped by pulling on an inflatable figure pants. The special advantage of these unique leggings is, that you cannot recognize them as pants on the body!

Rubbersisters Update 2020-05-06 Visitors
Heute bekommt Monica Besuch von ihren Freundinen
Miss Fetilicous
und Jacline. Die Mädchen sind wie immer komplett in Latex gekleidet und Monica präsentiert ihnen neue Dildos. Natürlich werden diese gleich auf Tauglichkeit getestet.
Today her friends
Miss Fetilicous
and Jacline visit Monica. As always, the girls are completely dressed in latex and Monica presents her new dildos. Of course, these get tested for suitability right away.
Deine Rubbersisters
Monica & Jacline