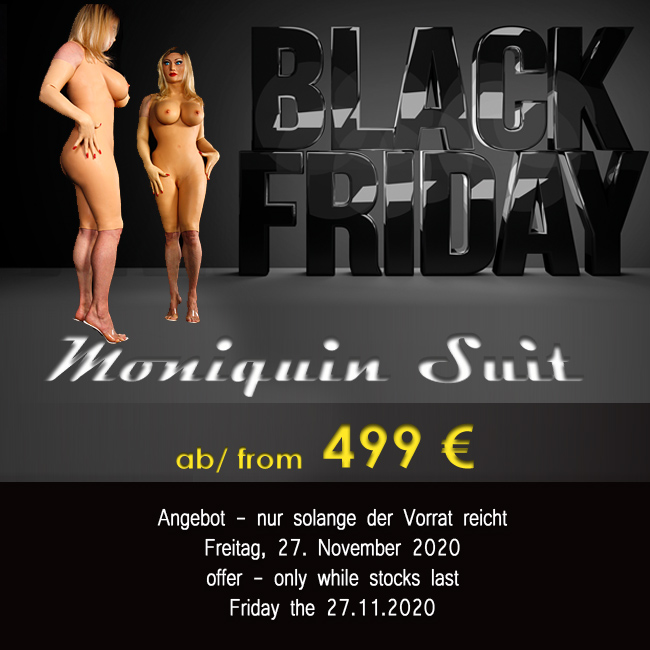 Der Ärmellose Anzug wird aus sehr weichen und dehnbaren medizinischen Silikon hergestellt..
Optional gibt es den Anzug auch mit halblangem Bein. Die 4 unterschiedlichen Hautfarben können bei der Bestellung ausgewählt werden. Der Anzug hat eine eingearbeitete Vagina und sehr schön geformte Brüste in Cup D oder G die mit Silikongel gefüllt sind. Die sehr realistischen braunen Brustwarzen sind bereits eingearbeitet. Die weiblichen Hüften können mit der "aufblasbaren Latex-Figurhose" oder dem Po-Former je nach Bedarf geformt werden. Mit diesem Anzug kann man eine sehr realistische und wunderschöne kurvige weibliche Figur formen.
The sleeveless suit is made of very soft and stretchable medical grade silicone.
The Moniquin suit is optionally also with short legs available. 4 different skin colors can be selected when ordering. The suit has an integrated vagina and beautifully shaped breasts in Cup D or Cup G filled with silicone gel. The very realistic brown nipples are already incorporated. The female hips can be shaped with the a "inflatable latex figure pants" or a booty buster as required. With this suit you are able to form you body into a very realistic and beautiful curvy female figure.
Deine Rubbersisters
Monica & Jacline