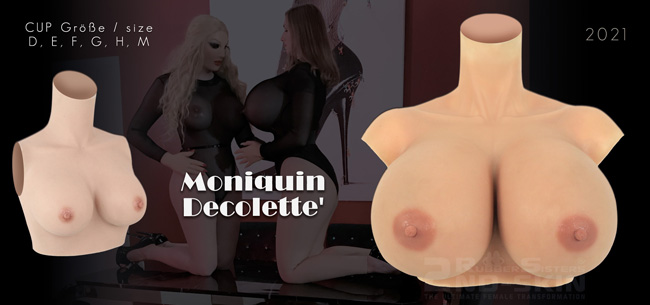 Traumbusen, eine naturgetreue Nachbildung des weiblichen Oberkörpers aus Silikon zum Anziehen.
Das Moniquin Dekollete wurde speziell für den männlichen Oberkörper entwickelt und ist weich und sehr dehnbar. Mit diesem Brustoberteil ist eine realistische Verwandlung zur Frau sehr einfach.
Der Busen mit Silikon-Gel-Füllung wippt beim Gehen wie eine echte Brust. Mit Wattefüllung ist er dagegen vom Gewicht wesentlich leichter. Das Dekolette gibt es in 6 Cupgrößen und 4 Farben. Die Oberflächenstruktur des Materials ist der menschlichen Haut verwechselnd ähnlich. Das hochwertige medizintechnische Silikon ist hautverträglich, sehr stabil und reißfest. Angezogen wird dieses Dekollette wie ein T-Shirt.
Dream boobs, a life like replica of the female upper body made of silicone to wear.
The Moniquin cleavage got specially developed for the male upper body and is soft and very elastic. With this breast top, a realistic transformation into a female is very easy.
The breast with silicone gel filling rocks like a real breast when you walk. With cotton filling, on the other hand, it is much lighter in weight. The décolleté is available in 6 cup sizes and 4 colors. The surface structure of the material is convincing similar to human skin. The high-quality medical technology silicone is skin-friendly, very stable and tear-resistant. This cleavage is put on like a T-shirt.
Deine Rubbersisters
Monica & Jacline